Irish title DATING AMBER, written and directed by David Freyne (THE CURED) will premiere on Amazon Prime Video on 4 June in Ireland & the UK.
Wildcard Distribution will release DATING AMBER on the big screen in Ireland when cinemas re-open this summer.
Set-in Ireland during the mid-90's, Eddie (O'Shea) and Amber (Petticrew) decide to stage a relationship in order to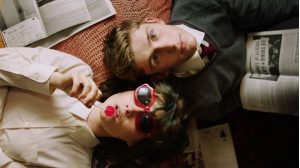 stop everyone speculating about their sexuality.  Eddie is keen to follow his Dad into the military, while Amber dreams of moving to the liberal hub of London.  However, their 'ideal' arrangement begins to fall apart, forcing Eddie deeper into denial as Amber realises that a perilous future awaits her best friend unless she intervenes.
DATING AMBER is a poignant, honest and funny look at the highs and lows of teenage life where the only way to fit in is to not be yourself, even if this goes against your very being.
Watch the trailer for DATING AMBER https://www.youtube.com/watch?v=jVU_e0Kq4A8&feature=youtu.be
The film also stars BAFTA and IFTA Award winner Sharon Horgan (CATASTROPHE), Barry Ward (JIMMY'S HALL) and Simone Kirby (ARTEMIS FOWL).  The film was funded by Screen Ireland and the Broadcasting Authority of Ireland and was produced by Rachael O'Kane (THE CURED) and John Keville (THE HOLE IN THE GROUND).  Benoit Rôland (FILTH) Co-Produced the film with Altitude's Will Clarke Andy Mayson and Mike Runagall Runagall and Screen Irelands' Dearbhla Regan, Executive Producing.
Altitude are handling international sales and will be screening at the Cannes Virtual Market.
Writer and director David Freyne commented, "DATING AMBER is as personal a film as I will ever make.  It's my love letter to my home and for all those kids who needed to escape to be themselves.  And at its heart are two extraordinary young stars, Fionn O'Shea and Lola Petticrew.  I'm so excited to share it on Amazon Prime Video, to bring some laughter in these uncertain times and for everyone to fall in love with Eddie and Amber."
Tags: Amazon Prime Video, Dating Amber, David Freyne, Fionn O'Shea, Lola Petticrew, Sharon Horgan, Wildcard Distribution