Dublin's Annual Kite Fest takes place in North Bull Island, Clontarf
Over 7,000 kite fliers and spectators of all ages gathered in North Bull Island, Clontarf, today to experience the spectacular Dublin Kite Festival. The Dublin City Council event provided a jam packed day of exhilarating fun for all the family.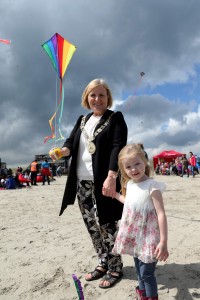 This year's Dublin Kite Festival attracted attendees from around the country, brandishing an array of kites ready to take to the skies and beautify the Dublin skyline with a jumble of colour. There was free entertainment all day long ensuring that attendees enjoyed a carefree Sunday afternoon reliving childhood memories of kite flying whilst having fun with friends and family.
Speaking at the Dublin Kite Festival 2016, Ardmhéara Bhaile Átha Cliath / Lord Mayor of Dublin Críona Ní Dhálaigh said; "Dublin Kite Festival is a wonderful event and I'm delighted it's returned to Dollymount Strand again this year. Kite flying is a great family activity, suitable for all ages. You don't have to be a child or even a kite enthusiast to enjoy yourself. It's all about being outside, being active and having fun.  With free entertainment all day, it's a perfect way to spend a Sunday afternoon in our Capital!  Bigí linn agus cur d'eitleóg ag eitilt."
Kathryn Byrne, event manager of the Dublin Kite Fest said, "The Dublin Kite Festival has fast become one of our favourite events of the summer; the atmosphere is always upbeat and everyone is always in great spirits. Kite flying is an ideal activity in Dublin, especially with our windy weather conditions, and is an ideal activity for both young and old. The Kite Festival is always a guaranteed great day out."
Whether attendees were brilliant kite fliers, or failing kite triers everyone got off the ground in the end as there were plenty of kiting experts ready to lend a hand. The day also boasted lively music, exciting games, kite making workshops and a kite flying competition!
For more information visit www.dublincity.ie/kitefest, like our Facebook page www.facebook.com/DublinKiteFestival, or follow us on Twitter @DublinKite and Instagram @DublinKite.
Dublin Kite Festival is brought to you by Dublin City Council and is supported by 98fm and Pure Magic.
Tags: Dublin, Dublin City Council, Dublin Kite Festival, Family Event, Kite Festival