The Castlerosse Hotel, nestled between Kerry's iconic Killarney town and National Park, offers a specifically tailored 'Golden Breaks' experience for those aged over 55. With a bespoke programme, the Castlerosse Hotel is a constant favourite with guests returning more than once a year.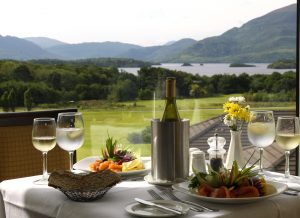 Adjoining the Killarney National Park and as just one of three hotels situated on the Killarney Lakes, guests at Castlerosse enjoy outstanding scenery and charming wildlife. On arrival guests are met with a welcome drink, which is followed with complimentary teas and coffee each day during their stay. With a three night stay at Castlerosse, visitors can enjoy a full Irish breakfast each morning and a delicious four course meal each evening.
Guests seeking rest and recreation can enjoy a variety of amenities within Castlerosse, from the Renew Beauty Spa, Health and Leisure Club and 9-hole golf course, among others. Apart from the hotel's swimming pool, sauna and steam room and fully equipped gym, guests are invited to partake in the popular aqua aerobics session, gardening talks and nightly entertainment. Beyond the grounds of Castlerosse, the Golden Breaks programme includes a scenic drive of the Kerry paradise, including a Lake Boat Trip, while guests can also take part in a Highlights of Kerry Tour.
With the newly updated Mulligan's Pub and Lake View, and the Grosvenor Restaurant with panoramic views of the Macgillicuddy Reek, guests are spoilt with choice of great food all within the Castlerosse Hotel. As the evening settles in, Castlerosse becomes filled with lively entertainment with traditional music, dancing and a table quiz for everyone to enjoy.
Hotel Manager Danny Bowe says, "Paramount to any stay in Castlerosse is the dedication to genuine hospitality and customer care for all our guests. The Golden Breaks programme is so successful because we have learned what out guests want and how to best provide that with exceptional value for money."
He continued, "Being located in this stunning location in Kerry and having the range of activities, from the guided walks to evening entertainment, Castlerosse offers guests a brilliantly rounded trip that keeps them coming back time and time again."
Golden Breaks Programme includes:
3 night accommodation with full Irish breakfast and 4 course dinner each evening
Welcome drink on arrival
Golden Break information and Help Desk
Complimentary tea/coffee each day
A scenic drive including Lake Boat Trip
Day time activites: Aqua aerobics, Gardening talks and Guided walks
Evening entertainment: Traditional music, Table Quiz and Dancing
*Starting from €195 per person sharing
ENDS
Tags: Castlerosse Hotel; Killarney; Seniors; holiday deals; golden oldies; over 55; Holiday;