Wildcard Distribution announce new release Moon Man, an animated feature produced in association with Oscar-nominated Cartoon Saloon.
Moon Man is a beautiful animated feature produced in association with Cartoon Saloon and based on a famous children's book by Tomi Ungerer. Moon Man, which screened at the Cork Film Festival, is the lively and offbeat animated feature from the Oscar-nominated producers of The Secret of Kells, Kilkenny-based Cartoon Saloon. Based on Tomi Ungerer's successful children's book of the same name, Moon Man tells the story of the man on the moon who comes to Earth on the tail of a passing comet. Directed by Stephan Schesch and Sarah Clara Weber, the film showcases the stunning artwork of Ungerer's original book and offers a change of pace from Hollywood's animated films.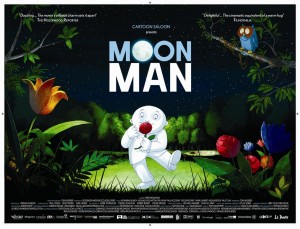 Speaking about the upcoming cinema release Tomi Ungerer said: "Moon Man was adapted by Stephan Schesch from one of my picture books. He gave the Moonman, my alter-ego of sorts, a new dimension. And there my thanks go as well to Cartoon Saloon, the Irish studio whose talents fructified the production. I consider myself truly privileged for having met such creative minds who respected both my life and my work."
Paul Young, Cartoon Saloon, producer of Moon Man commented: "Cartoon Saloon is proud to bring Moon Man to Irish and UK audiences this Christmas.  Tomi Ungerer is an inspiration to artists the world over and his books for children have been celebrated for generations for their intelligent, entertaining stories and original characters. Cartoon Saloon is delighted to have helped bring Moon Man to Irish and UK screens."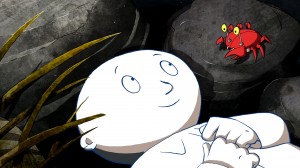 Moon Man will be released in selected Irish cinemas by Wildcard Distribution on December 27th. The release date for Moon Man at the end of December offers the perfect Christmas treat for families in Ireland and the UK searching for some heart-warming, festive fun.
Moon Man will also go on release in Picturehouse cinemas (with the support of multi-service agency Coffee & Cigarettes) throughout the UK at the end of December. Picturehouse are the leading independent cinema chain in the UK and are very excited to be screening Moon Man as a Kids' Club special.
Tags: Animation, Cartoon Saloon, Film, Moon Man, Tomi Ungerer, Wildcard