The Irish Travel Agents Association (ITAA) has expressed its concern at today's announcement that Ryanair pilots, who are members of the Irish Airline Pilots' Association (IALPA), plan to strike on Wednesday 20th December.
Cormac Meehan, President of the ITAA, said, "The timing of this strike, just five days before Christmas, is very unsettling and worrying for those planning to travel over the holiday season. This industrial action could result in huge disruptions for Irish travellers, in particular for families who may be returning home for Christmas or planning to holiday aboard."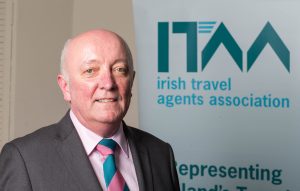 He continued, "All of our member travel agents will do their very best to minimise the inconvenience to customers by keeping them up to date with cancellations as well as assisting them with rebooking flights and changing travel plans. However, we are calling on Ryanair to engage with IALPA and do their very best to stop this industrial action taking place. We would also ask that they keep customers up to date with any planned cancellations as soon as possible to ease the uncertainty faced by intending travellers and so that alternative holiday arrangements can be made."
Cormac Meehan concluded, "We are advising all those intending to travel with Ryanair to contact their travel agent for further advice and to check CAR's website www.aviationreg.ie for updates on entitlements."
The ITAA represents Ireland's travel Industry, bringing together 100 travel agent members and 70 affiliate partners. ITAA members cover over 140 outlets in different towns and cities throughout the Republic of Ireland. All travel agent members are licensed by the Commission for Aviation Regulation and are fully bonded providing full financial protection for their customers.
Tags: Cormac Meehan, ITAA, Ryanair, Strike