As part of Fingal County Council's Creative Ireland programme, a new Irish musical The Promise will open the Swords Summer Festival on Thursday, July 20, at 8pm, in the magnificent setting of Swords Castle.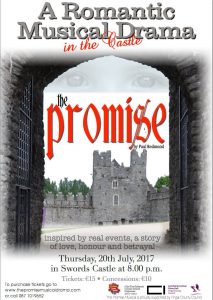 The Promise is a tale of intertwined love stories, mixed with betrayal, revenge and reconciliation, set in early 19th century Ireland and takes some of its inspiration from the final battle on the east coast of Ireland of the United Irishmen at Drishoge in North County Dublin in 1798.
Written by Paul Redmond, The Promise features a cast of 10 actors/singers accompanied by a six-piece band and is supported by a 20 strong choir. It is directed by multi-award winning director Noel McDonagh.
Some of the material from The Promise is already being used by other performers. Peter Corrie sings one of The Promise songs in his international shows while The Irish Gale Force Dance Company and The Celtic Nights Sprit of Freedom have both used original material on their shows.
Paul Redmond commented: "It's a thrill for me that already a number of my songs from The Promise are gaining international appreciation and we are looking forward to staging the musical in Swords Castle which will be a tremendous setting for the production. We greatly appreciate the continued support of Fingal County Council for the musical."
Tickets are available online at www.thepromisemusicaldrama.com or by calling 087 1019 652. Tickets will also be available at the door on the night are priced at €15 each with concessions costing €10.
Further information on the Creative Culture Fund and Fingal's Culture and Creativity Plan can be obtained by emailing creativefingal@fingal.ie or calling 01 8905097.
Tags: Creative Fingal, Creative Ireland, Fingal, Fingal County Council, musical, Summer Festival, Swords Castle, The Promise