Crews armed with fast cars, video cameras and police scanners prowl LA at night looking for crashes, violence and mayhem in order to supply the exclusive footage to TV networks.
Lou's (Jake Gyllenhaal) drive to succeed as a nightcrawler at any cost pushes him to the limits of the law and forces morality aside in what becomes an increasingly sinister and dangerous game.
NIGHTCRAWLER stars Academy Award® nominee Jake Gyllenhaal (Prisoners, Donnie Darko), Rene Russo (Thor, The Thomas Crown Affair), Riz Ahmed (Four Lions), Bill Paxton (Edge Of Tomorrow, Aliens) and is the directorial debut of Dan Gilroy (writer of The Bourne Legacy).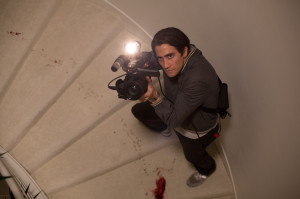 In Irish cinemas 31st October
Watch the intense trailer here. 
Tags: Jake Gyllenhaal, Nightcrawler