The Board of the John F Kennedy Trust New Ross have announced that Sean Connick is to be their new Chief Executive.
Connick will succeed Sean Reidy who will retire in June after 23 years service as Chief Executive of the Trust.  The John F Kennedy Trust currently runs a range of tourist, heritage and social development projects including the Dunbrody Famine Ship Experience at the Quayside New Ross, the Kennedy Homestead at Dunganstown and the JFK Tea Rooms at the nearby John F Kennedy Arboretum.
Connick's appointment comes after an open publicly advertised competition conducted by a sub committee of the Board of the Trust with the advice of an external human resources company and the involvement of an independent interview panel. The competition attracted extensive interest including many currently or previously working in similar positions in the tourism and heritage sector, in business or in local or national voluntary organisations.
The Board of the John F Kennedy Trust reiterated today that the position of CEO of the John F Kennedy Trust is an apolitical position. Connick, who was scheduled to be a Fianna Fáil candidate in the forthcoming local elections also announced today that he will be retiring from politics and is withdrawing from the forthcoming election. He thanked his many supporters and friends for their support who had supported his political activity over the years and expressed the hope they would continue their support and understanding as he embarks on this new chapter his life.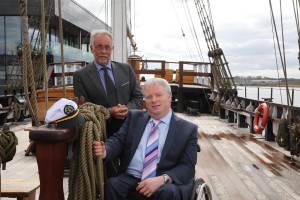 Connick worked previously in his own warehousing, motoring, and fitness and leisure business before he entered politics in 1999. He was a TD from 2007 to 2011 and was Minister for State at the Department of Agriculture with responsibility for Fisheries & Forestry from 2010 to 2011. Sean was not re-elected in the 2011 General Election. He is also a former Chairman of the John F Kennedy Trust and of the New Ross Special Olympics Host Town committee and of the JFK Dunbrody Festival.
Speaking today Connick said: "I am delighted to take up this new challenge in my life and to be a part of the massive contribution which the JFK Trust makes to the social, economic and cultural development of the New Ross area. The JFK Trust is about to launch a number of exciting new initiatives designed to build on links with the Kennedy family and to develop significant research projects on Irish emigration with Waterford Institute of Technology and Georgia Southern University. I will always have fond memories of my time in politics but I am energised by the exciting opportunities which working with the JFK Trust will give me to continue to work for the benefit of New Ross, the South East region and the Kennedy legacy."
Commenting on Sean Connick's appointment Sean Reidy said "I know of the depth of Sean Connick's commitment to the work and ambitions of the John F Kennedy Trust and to the welfare of New Ross and this region. While I will leave the position of CEO with a heavy heart I leave it knowing Sean Connick will bring terrific energy, ability and enthusiasm to the task."
Tags: JFK Trust, New Ross, Sean Connick, Sean Reidy