The Guarantee, the much talked about feature film recreating the events that led up to the bank guarantee on 29th September 2008, will be available to buy on DVD from Friday 28th November in retailers nationwide, including Tesco, SuperValu, HMV, Tower Records, Golden Discs and Xtravision, and can be bought online via The Guarantee movie website (www.theguaranteemovie.com) and on Amazon. The DVD includes bonuses comprising of exclusive interviews with the cast, writer and director and also behind the scenes footage of the making of the film, following it from conception to production.
Starring Peter Coonan (Love/Hate), David Murray ('Amber'), Gary Lydon (Calvary), Morgan C. Jones ('Vikings'), and Orla Fitzgerald (The Wind That Shakes The Barley), The Guarantee is a fact-based drama that goes behind the scenes on the most pivotal night in recent Irish history, as the beleaguered government fights to keep the country's banking system afloat. Their decision will ultimately shape the future of the nation for generations to come. Directed by Ian Power (The Runway) and adapted by Colin Murphy from his acclaimed stage play 'Guaranteed!'produced by Fishamble Theatre Company, The Guarantee is a not to be missed film that explores a momentous time for contemporary Ireland with tension, humour, and intelligence.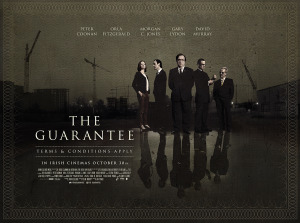 In the corridors of government, we follow newly appointed Taoiseach Brian Cowen (Lydon) and Finance Minister Brian Lenihan (Murray) as the true extent of the cataclysm facing Ireland's runaway banking system begins to dawn on them. Meanwhile, David Drumm (Coonan) frantically tries to get the 'moolah' to keep Anglo Irish Bank open, while Sean Fitzpatrick (Jones) pitches for state support. With the pressure on both sides building and time running out, the Taoiseach and his finance minister decide on a course of action which will have consequences that are still being felt today.
Ian Power is an award-winning writer and director of shorts, features, and commercials. His debut short Buskers won Best Short Film awards at the Cork Film Festival, the Foyle Film Festival, and the Galway Film Fleadh. His first feature, The Runway, starring Academy Award® nominee DemiánBechir, won Best Irish Feature at the Galway Film Fleadh in 2010 and was selected for the Director's Guild of America's Finders Series.
Colin Murphy is an author, journalist, and broadcaster. He has written the play 'Guaranteed!' and short plays 'Guaranteed Irish' and 'Dublin Noir' for Fishamble: The New Play Company, made documentaries for television and radio, and writes weekly columns for the Sunday Business Post and Irish Independent. He is currently working on a stage sequel to 'Guaranteed!', provisionally titled 'Bailed Out!', for Fishamble.
The Guarantee was produced by John Kelleher Media in association with the BAI, the Irish Film Board and TV3.
Tags: The Guarantee