Festival creates magnificent display on North Bull Island today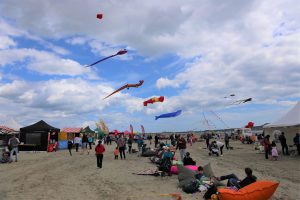 Thousands of kite fliers and spectators of all ages gathered in the sunshine on North Bull Island, Clontarf, today to experience the spectacular Dublin Kite Festival. Brought to you by Dublin City Council, this family-favourite event hosted a fun and colourful day out for visitors.
Kite enthusiasts and amateurs alike painted the sky of Clontarf with vibrant kites, creating a magnificent sight on the North Bull Island. A number of awards were presented at the event, including most aerodynamic kite and most beautiful. International Master Kite Flier, Andrew Beattie, delighted visitors with a stunning kite display.
Kathryn Byrne, event manager of the Dublin Kite Fest said, "Today's event has been a great success. Kite flying is one of those great family activities that is suitable for all ages, you don't have to be a child or even a kite enthusiast to enjoy yourself – it's all about being outside, being active and having fun.
"Our kiting experts put on a fantastic display and helped even our most amateur kite fliers to get off the ground. We are already looking forward to the 2020 event!"
Dublin Kite Festival was brought to you by Dublin City Council.
For more information visit www.dublincity.ie/kitefest, like our Facebook page www.facebook.com/DublinKiteFestival, or follow us on Twitter and Instagram @dublinkite.