Pól Ó Conghaile was presented with the Travel Extra Journalist of the Year Award at a ceremony held to coincide with the annual Holiday World Show, which takes place at the RDS Simmonscourt, Dublin this weekend.
Eleven other winners, each for different holidaying categories, were announced this evening at a dinner in Thomas Prior House, Ballsbridge which was attended by the cream of Irish travel and tourism writers and broadcasters.  The event was sponsored by the Spanish Tourist Board, Salou and PortAventura.  The award winners were chosen by a distinguished panel of senior Irish journalists. This year saw a huge increase in the number of submissions from previous years, displaying the creativity and continuing innovation of travel and tourism journalism in Ireland.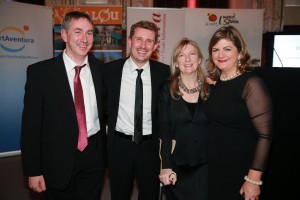 The category winners were:
Newcomer/Young Journalist Award -Deirdre Conroy of the Sunday Independent
Sponsored by Turkish Airlines and Turkish Tourism
Travel Book Award -Mark Graham for A Year of Festivals in Ireland
Sponsored by lowcostholidays
Skiing Award – Isabel Conway of Metro Herald for Port du Soleil
Sponsored by Topflight
Northern Ireland Award -Ros Drinkwater of Sunday Business Post
Sponsored by Northern Ireland Tourist Board
Home market Award – Madeleine Keane of the Sunday Independent
Sponsored by Fáilte Ireland
Broadcasting Award – Mary Fanning of Nationwide Kildare Arthur's Way
Sponsored by Insight Vacations
Digital Award – Pól Ó Conghaile independent.ie
Sponsored by Clickandgo.com
Short break Award – Conor Power of Sunday Independent for Puy de Fuy
Sponsored by Cassidy Travel
Sun holiday Award – Ros Drinkwater of the Sunday Business Post "In Search of Montalbano"
Sponsored by Falcon Holidays
Spain Award  – Niamh McSweeney of Business and Finance for Ibiza
Sponsored by Spanish Tourist Board
Long haul Award  – Deirdre Mullins for rte.ie
Sponsored by Sunway
Overall winner of the Travel Extra Travel Journalist of the Year Award, Pól Ó Conghaile, was awarded the prize for his exceptional body of work including articles written for Irish Independent and independent.ie. The sponsor of the award for overall winner was the Maltese Tourist Board.
The Holiday World Show at the RDS is an annual event running until Sunday 25th January, which will attract over 50,000 visitors, who can avail of expert advice from almost 1,000 travel professionals to find a holiday to suit any budget.
www.holidayworldshow.com