She never forgives. She never forgets. She never left.
40 years since the terrifying events at Eel Marsh House, the building stands, rotten and dilapidated, outside the deserted village of Crythin Gifford.

As WWII tears the nation apart and bombs reign down on London, a group of eight children, lead by young school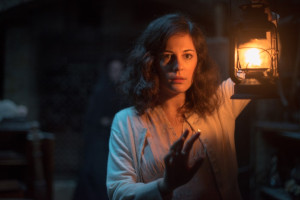 teacher Eve (Phoebe Fox), and hardened headmistress Jean Hogg (Helen McCrory), are evacuated to the abandoned house. Fearful, yet determined, Eve tries to maintain a brave face for the children but after a series of disturbing events she begins to suspect that they may not be alone. With the aid of Harry (Jeremy Irvine) an RAF pilot stationed nearby, Eve tries to uncover the dark secrets of the house but their presence soon stirs a malevolent. As children once more play in the grounds, out of the darkness comes the vengeful spirit, The Woman in Black.
This haunting tale, directed by Tom Harper (The Scouting Book for Boys, War Book) will appear in Irish cinemas on January 1st 2015.
View the trailer here.
Tags: Angel of Death, Helen McCrory, Jeremy Irvine, Phoebe Fox, Woman in Black