Charity receive €170,000 award from Social Innovation Fund Ireland at ceremony in Google
ALONE, the charity that supports older people to age at home, was presented with the Social Innovation Fund Ireland's prestigious THINKTECH award by Simon Coveney T.D., Minister for Housing, Planning, Community and Local Government, at a ceremony in Google's Foundry last night. ALONE achieved the award for a new responsive online platform, which it will develop in partnership with NetwellCASALA at Dundalk Institute of Technology, that focuses on supporting older people to age at home.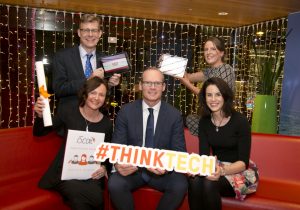 The ALONE platform adopts an innovative community based approach to caring which maximises the older person's capabilities and strengthens the existing informal and formal support networks around the older person. The platform operates through mobile applications (apps) and home sensors with an overarching monitoring and alerting system.
The platform was developed to improve the wellbeing of older people, give peace of mind to their families, carers and volunteer support network and equip existing community supports to enable them to age at home. The model is both transferable and scalable, and ALONE hope that this platform can be used to support other sectors (e.g. the homeless or disability sector) throughout Ireland and Europe.
Sean Moynihan, CEO of ALONE, commented at the awards last night, "ALONE, along with our partners NetwellCASALA, are delighted to receive this generous award and excited to be involved in the innovative initiative that is THINKTECH. We would like to thank the Social Innovation Fund, the Department of Housing, Planning, Community and Local Government and Google.org and we look forward to working with them on this ground breaking project."
He continued, "This award is not only vital for our services, it is of great importance to the Age sector and Social Innovation and nonprofit sector. Ireland's impending ageing demographic requires a move away from traditional models of care towards alternative models that harness community resources. This technology platform is a key driver for achieving our vision for older people ageing safely and well at home."
THINKTECH is a €1 million project to support and grow ideas for a better Ireland. Created by Social Innovation Fund Ireland with support from Google.org and Government, the THINKTECH challenge identifies innovative ideas that use technology to create positive social impact in Ireland.
ENDS
Tags: ALONE, Google.org, NetwellCASALA, Social Innovation Fund Ireland, Technology, THINKTECH