Announcement made by Stephen Rae at launch of Home Holiday Pavilion
Independent News and Media (INM)'s partnership with the Holiday World Show Dublin was announced by Stephen Rae, Group Editor-in-Chief of INM, at a launch in Dublin yesterday. The media partnership, which will be across all INM national print and digital titles, is for the 2017 Holiday World Show, taking place in the RDS Simmonscourt from Friday 27th January to Sunday 29th January 2017.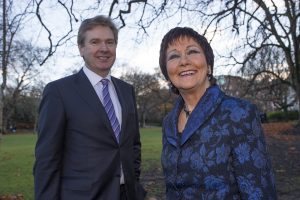 Stephen Rae, Group Editor-in-Chief of Independent News and Media, commented, "As a former travel editor I have always had a great affinity for the Holiday World Show. We at INM are delighted to be media partners with the exhibition which is the ideal place to find out about new destinations and explore holiday ideas".
Maureen Ledwith, Organiser of the Holiday World Show, commented, "We are delighted to be partnering with Independent News and Media for the Holiday World Show Dublin 2017. At Holiday World Dublin 2017 visitors will have the chance to meet with travel professionals from around Ireland and the world to plan their dream holiday and take advantage of show-only specials and deals."
For three days the RDS Simmonscourt will be transformed into a hub of exotic, vibrant, multi-cultural activity; from the Americas to Asia, Europe to Africa, visitors can literally experience the locations on offer in a way that is not possible on the internet. Whether you're seeking that once-in-a ­lifetime trip, planning a well deserved family holiday or making plans for a romantic getaway, the Holiday World Show is the must-attend event of the year.
Holiday World Show 2017 will again host the free Eoghan Corry Travel Summit in association with Dublin Airport facilitated by renowned travel journalist Eoghan Corry where leading industry experts will give talks and answer visitors' questions on topics such as The Americas, Cruises, Ski and Snow Holidays, Solo Holidays and Exotic Destinations, as well as Home Holidays.  These informative and enjoyable seminars prove hugely popular with visitors every year.
For further information on the Holiday World Show 2017 visit www.holidayworldshow.com.
Tags: Holiday World Show, INM, Media Partnership, Stephen Rae, Travel