Holiday World Show Draws Record Number of Holiday Seekers
Record number of visitors attended this year's Holiday World Show in the RDS, Dublin. Limelight Communications managed the PR for the show as well as the official opening on the first day with Bertie Ahern and the Travel Writer Awards, which took place on the Friday evening in Thomas Prior Hall.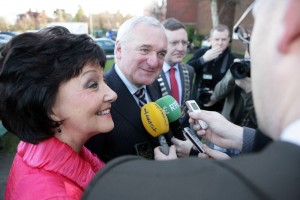 The show, which celebrated its 21st year, concluded on Sunday 24th January and saw over 55,000 people make their way to the RDS for expert travel advice, and tips for the bargains of 2010. An increase of 9% on numbers from last year indicates the popularity of this award winning show still holds strong.
Edmund Hourican, Managing Director, Business Exhibitions Ltd., Organiser of Holiday World Show Dublin 2010 said "Our 2010 show has been more successful than ever before, numbers have increased on last year's figures as people feel more confident when it comes to booking holidays for the year ahead."
Limelight Communications and members of it's team have had many years association the highly successful Holiday World Show. Our Chairman, John Butterly has overseen the PR Campaign since the Show first began twenty one years ago.