Unique new format combines opera and ballet performances, debuting Belfast's own Melissa Hamilton, principal ballerina of the Royal Ballet and an excerpt from Monica Loughman's new production in classical ballet, Children of Lir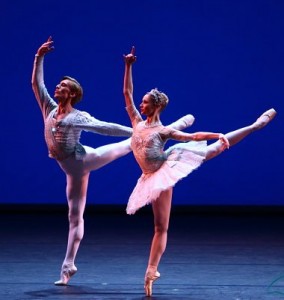 Monica Loughman returns to The National Concert Hall this September with a star studded cast performing a unique format for the best-of-the-best of opera and ballet. The performances take place on September 22nd and 23rd in partnership with Ruslan Nurtdinov from the Rudolf Nureyev Ballet in Russia and debuting the Royal Ballet's Belfast-born Melissa Hamilton with her partner Dawid Trzensimiech, along with Anton Ploom and Yulia Tikka from the Mikhailovsky Ballet in Russia.
"Masterpieces of World Opera and Ballet" will include legendary arias from Lucia di Lammermoor, La Traviata, Faust, Carmen with Russian opera stars supported by an Irish music ensemble, and choreography from Swan Lake, La Corsaire, La Bayedere and The Nutcracker all performed with a total cast numbering over fifty artists. Monica Loughman will also perform one of her own favourite pieces – The Dying Swan.
Just six months after her success staging the oldest surviving romantic ballet, La Sylphide at The Convention Centre Dublin, Monica now brings this new production to the National Concert Hall. In Russia, where Monica Loughman spent the first ten years of her career, Perm State Ballet would traditionally start or finish its season with a celebration of the Opera and Ballet in the city's lavish Opera House. It was an opportunity for opera aficionados to experience the best of ballet and vice-versa. The format was also popular with families and even young children because of the fast pace of these performances, and September will mark the debut of this combination of opera and ballet in Ireland.
The performances will feature some of Ireland's and Russia's biggest stars including Larisa Akhmetova, soprano of Bashkortostan Opera along with the debut of the Monica Loughman Ballet's two new principal dancers, Athanasios Routianadis from the Bolshoi and Pandora Beaumont from Paris. They will perform a piece of original choreography from the new ballet based on the Irish legend, Chlainne Lir (Children of Lir). Kevin O'Carroll will conduct an eight-piece music ensemble and the production includes six Irish opera singers.
Monica Loughman commented, "I first performed in the National Concert Hall at the age of 16, the same year I was offered my first job as a professional dancer with Perm State Ballet. It is wonderful for me to be able to bring back home not just a format for Opera and Ballet but such remarkable international and Irish stars from both artforms."
For further information or bookings contact the National Concert Hall on 01 417 0000 or www.nch.ie.
Tags: Anton Ploom, Melissa Hamilton, Mikhailovsky Ballet, Monica Loughman, Royal Ballet, Rudolf Nureyev Ballet, Ruslan Nurtdinov, The Dying Swan, The National Concert Hall, Yulia Tikka